Virtual Programming
We are excited to continue providing you with virtual programs, from casual conversations and networking to professional development! We are bringing on speakers from all over the world to speak on topics you've requested through surveys and conversations with us. We encourage you to not wait for our Annual Conference to learn and network — join us from anywhere in the world — no travel costs required!
As members, many of these opportunities are included in the cost of your membership. We encourage you to register and set aside time each month to your professional development and engage with these opportunities.
We know everyone learns differently, so we are excited to offer different types of programming to best suit our members.
Session Types
Affinity Networking:
Participate in conversations with other outdoor facilitators who share a commonality (ex: region, self identity, recreation pursuit). These are non-facilitated meet-ups that allow both members and non-members to connect and discuss topics relevant to the identity group they choose to participate under. Free for members and not-yet-members.
Association Chat:
Join AORE as we bring an industry though leader to present information on the topic of discussion. The second half of the chat is for open discussion — we invite you to bring your current challenges, successes, questions, and experiences. Free for members and $25 for not-yet-members.
Coffee Chat:
Designed to help keep you informed and to help you learn more about the topics, people, issues, and perspective that impact the Outdoor Industry. Grab your coffee, smoothie, tea or water and come listen in as AORE's Executive Director, Jeannette Stawski, speaks with industry leaders. Free for members and $25 for not-yet-members.
Lead and Learns:
These informal sessions are intended for each attendee to both lead and learn during this session. Lead and Learns will vary on topic, including Diversity, Equity and Inclusion and Environmental Stewardship. We encourage you to bring successes, challenges and stumbling blocks in your experience with the topic. Free for members and $15 for not-yet-members.
Professional Development Webinars:
Varying in length, these webinars invite industry experts to share and present on a topic of interest to the AORE membership. Attendees are encouraged to attend for professional development within the Outdoor Industry. Prices vary, starting at $20 for members and $50 for not-yet-members.
So You Want to Be A. . .:
This is a virtual conversation designed to highlight different career paths in the industry, removing barriers and the need to know someone and allowing jobs to be accessible by all. These conversations provide guidance on navigating the job market, accessing the right tools, and the support to choose a focus area to advance within the profession. Free for members and $15 for not-yet-members.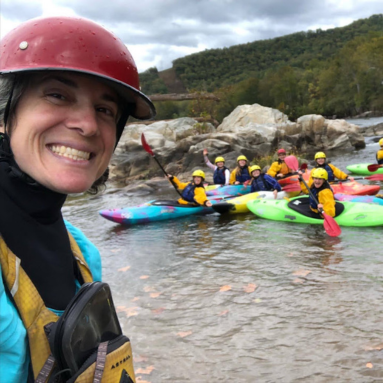 I volunteer with AORE because it's a great way to network within the Outdoor Adventure community. It's also a great way to gain experience in different roles within the industry than I generally play and to give back to the community.
Candace Brendler
Coordinator for Outdoor Action at Princeton University
Be a Speaker
We would love to have you join as a speaker. Tell us about your expertise and what type of event you'd like to host. We'll be in touch if you are fit!
---
Share an Idea
Interested in learning about a certain topic or from a particular speaker? Tell us about it! Submit your ideas and we will reach out if we have any question.