AORE Announces the Future of Facilitated Recreation Series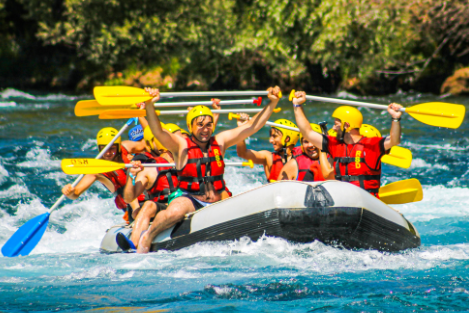 The Association of Outdoor Recreation and Education (AORE) Announces the Future of Facilitated Recreation Series
The Association of Outdoor Recreation and Education (AORE) is heading to Baltimore, Maryland for the 2023 annual Outdoor Professional Conference (OPC) in Baltimore, Maryland. The week-long conference will have a focus on the future of facilitated recreation.

Throughout the week we will explore challenges, opportunities, conversations, and connections that are at the forefront of the profession of facilitated recreation through our Future of Facilitated Recreation Series. Attendees are encouraged to join one or all education sessions that address, for outdoor facilitators, relevant insight and perspectives on a variety of curated topics and industry leaders.

Kicking off on Tuesday, October 31 with our keynote, Jessica Turner, President of the Outdoor Recreation Roundtable (ORR), will inspire attendees, and connect the business of the outdoor industry with the people of the outdoor industry.

Recently ORR announced the launch of its Outdoor Workforce Hub, developed to advance the outdoor workforce. AORE is proud to be a part of this monumental launch featuring interactive tools to help employers, educators, and those looking to join the outdoor recreation industry.

From here there will additional opportunities for attendees to focus in on the future of the industry with the following sessions:

Panel: Over Certified and Under Experienced
Wednesday, November 1 at 11 am ET
The outdoor industry has a surplus of certifications and training. While many outdoor facilitators may be struggling with the required time, financial resources, and access to acquire these certifications and training, certification providers also face many challenges of the outdoor industry - hiring, pay, certifications, training, risk and liability, and sustainability. Is it a dying industry?

Panelists include Abby Rowe, President and Owner of Wilderness Medical Associates International; Garnet Moore, Executive Director of the Climbing Wall Association; and Kelly Reynolds, Instructional Designer at the Chesapeake Bay Outward Bound School

Speed Dating: Research and Relevance
Wednesday, November 1 at 2:00 pm ET
With millions more outdoors than ever before and the outdoor recreation economy gaining recognition, we are at an inflection point to nail down the most important resource to ensure sustainable recreation opportunities now and into the future. This session is focused on four primary questions:
How do we identify the things that need to be researched?
Why are they important?
Who will fund the work?
Who will do the work?
This session will have two parts; first a panel discussion with thought leaders on thematic research opportunities in industry compensation, affordable housing, work/life balance and DE&I, and second, breakout groups where attendees will identify potential research opportunities that will be compiled and brought to industry funders.

Speakers: Ambreen Tariq, Senior Program Director of Outdoor Recreation Roundtable and Jeremy Jostad, Program Director of Outdoor Recreation Leadership at Eastern Washington University.

Panel: Outdoor Offices of Recreation
Wednesday, November 1 at 3:30 pm ET
With 20 states embracing offices of outdoor recreation—and realizing the economic benefits of the outdoor economy—this session will highlight four directors and celebrate their states' work on those who provide facilitated outdoor recreation. Come hear about the needs, opportunities, and feedback on participants facing workforce development in their state. Each state is different; What they are doing, what is working, what are the gaps.

Facilitator: Jenna Celmer, Co-Founder & Chief Community Officer of Basecamp Outdoor
Panelists: Carolann Outlette , Director of Maine's Office of Outdoor Recreation; Brad Garmon, Director of the Michigan Outdoor Recreation Industry Office; Nathan Reigner, Director of Pennsylvania's Outdoor Recreation; and representative from the State of Maryland.

DE&I Initiatives at Cornell Outdoor Education: Our Journey so Far
Wednesday, November 1 at 3:30 pm ET
Cornell Outdoor Education has been implementing and testing various DE&I initiatives to engage and serve the whole of Cornell's diverse student body. This presentation provides some insights and key learnings worth sharing with any program in the process of diversifying its participants and staff.
Speaker: Karel Hilversum, Co-Director of Cornell Outdoor Education

Sustainability of an Outdoor Recreation Career
Thursday, November 2 at 9:00 am ET
What is needed to make a career in outdoor recreation sustainable? From manufacturing to state-led public/private partnerships, education and programming, this session will share the highlights from the Outdoor Recreation Roundtable's Roadmap for a 21st Century Outdoor Workforce and how various sectors are currently navigating these issues and amplifying their successes. Bring your questions!

Facilitators: Lainie Gray, Associate Program Director of Chesapeake Bay Outward Bound School and Brad Garmon, Director of the Michigan Outdoor Recreation Industry Office.

Thriving Outside: A Community-Based Collective Impact Initiative to Expand Outdoor Access for All
Thursday, November 2 at 10:30 am ET
The Outdoor Foundation's Thrive Outside Initiative awards multi-year, capacity-building grants to diverse communities to build and strengthen networks that provide children and families with repeat and reinforcing experiences in the outdoors. This session will center on the work, the results, the impact and learnings of Thrive Communities.

Speakers: Jacob Fisher, Development and Programs Manager of The Outdoor Foundation and Stephanie Maez, Executive Director of The Outdoor Foundation

This series is included in regular registration for the Outdoor Professional Conference. To see the full schedule, please visit aore.org/OPC_schedule.

– –


Co-locating with Athletic Business' AB Show in Baltimore, Maryland October 31st. On November 2 and 3, OPC attendees can choose from OPC and AB education sessions. The OPC will be joining AB's 40 year conference with over 2,300 facility and program managers from around the world. These decision-makers come to AB Show every year to learn new solutions from industry leaders, find new products and services, and build community. This opportunity helps put AORE on the map, while keeping costs low for attendees.

Registration is open, with options for individual and group registration. AORE encourages group attendance for teams — to promote program growth and development. For those unable to attend the entire conference, daily rates are available.

Registration will go up October 9.

If you are looking for additional ways to get involved, grow your network, and boost your resume, AORE is always looking for volunteers for the event. Please fill out this form to sign up to be a volunteer.