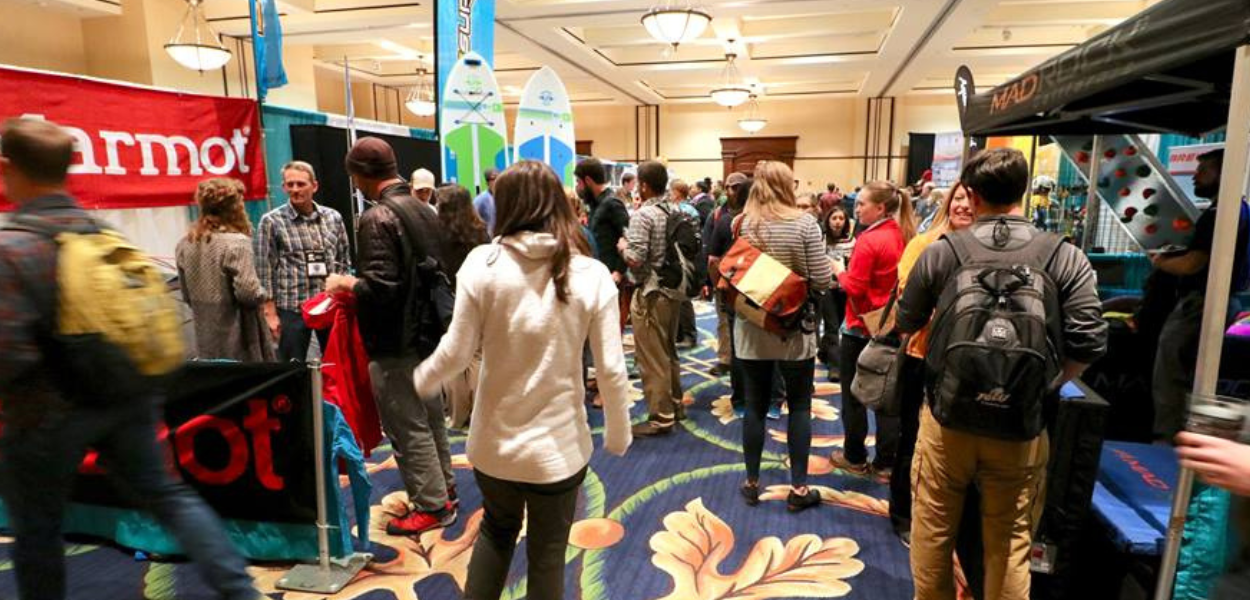 Exhibitor Information
In 2023 AORE is co-locating the Outdoor Professional Conference with the Athletic Business Show. This means that the education and networking will look and feel similar, but our exhibit hall will be the largest AORE has ever seen!
Gain access to highly qualified prospects with substantial purchasing power!
AB Show is the largest comprehensive trades show for athletics, fitness, recreation and military professionals. Our attendees represent massive capital improvement projects - including building and renovation projects with a budget of $50 million+ - meaning you're gaining valuable face time with key decision-makers who are making the purchasing decision on the products and services that will outfit their facilities.
Exhibitor Prospectus
Exhibit Hall Hours
Thursday, November 2 | 12 - 5 PM ET
Friday, November 3 | 12:30 - 4 PM ET
The Expo Hall
Check out the 2023 Exhibit Hall Layout with the button below. Click the "Pavilion List" Dropdown and then select AORE Pavilion to be designated as an AORE Exhibitor!
Have questions regarding exhibiting? Contact AB Exhibits Director, Steve Statsick!
Expo Floor Map
Looking for more? Be a sponsor!
Check out our Outdoor Professional Conference sponsorship opportunities below and contact the AORE National Office to become an official sponsor of a leading outdoor industry event!
Sponsorship Options
Why Exhibit?
At AORE's Outdoor Professional Conference [in combination with AB and other partners] you'll see:
125+
education sessions
2,300+
attendees
150+
companies exhibiting
Expanded
Military presence
Pricing
Booth purchase includes a 10x10 booth space, pipe & drape (back and sides) and a sign with company name.
Regular booth pricing
Booth Pricing: $2,950
per 10'x10'
Corner Fee: +$200
Non Profit Pricing
Booth Pricing: $1,475
Corner Fee: +$200
Please note that this package does not include access to education or socials. You can add on this option in registration for $150.00.
EXHIBITOR CODE OF CONDUCT
Interact respectfully and thoughtfully with all attendees, exhibitors, and staff in the exhibit hall, educational sessions, Play Day, and social situations.
Conduct business and transactions honestly, openly and with integrity, dignity and decorum.
Respect the rights of other exhibitors to conduct business during designated exhibit time without interference or improper intervention.
Refrain from behavior which would be considered harassing, forceful, deceptive, or misleading.
Refrain from disruption of presentations during sessions, in the exhibit hall, or at other events organized throughout the conference.
No soliciting of attendees shall be permitted in the aisles or in other exhibitors' booths.
No promotion or marketing of company, brand or products through individuals or activations featuring company branding or mascots outside of your contracted booth, Play Day participation or other sponsorships.
No styrofoam, foamcore signs, or balloons are permitted in your contracted booth space, request recyclable material.
Abide by all stated COVID protocols for the event.
Violations of the Exhibitor Code of Conduct Rules may result in (but need not be limited to):
Warnings -

First Violation Warning: One warning will be delivered to your company contact via email and a representative at your booth reiterating these Code of Conduct Rules.
Second Violation Warning: One additional warning will be delivered to your company contact via email and a representative at your booth reiterating these Code of Conduct Rules.

Probation Period-

Further violations may result, at our sole discretion, in your company being placed on probation for a period of 18 months.
---
CANCELLATION AND REFUND NOTICE
CANCELLATION AND REFUND: All refund requests must be made in writing to the AORE National Office.
If you cancel your registration prior to August 15, 2023 the AORE will retain 25% of the total registration fee.
If you cancel your registration between August 16 and October 10, 2023, the AORE will retain 50% of the total registration fee.
There will be no refunds on or after October 11, 2023.