Virtual Education
The Association of Outdoor Recreation and Education (AORE) is the leading organization in the United States dedicated to serving the needs of outdoor recreation professionals and facilitators. We work to provide valuable content to our members through our benefits, including virtual education and professional development.
We are bringing on speakers from all over the world to speak on topics you've requested through surveys and conversations with us. We encourage you to not wait for our Annual Conference to learn and network — join us from anywhere in the world — no travel costs required!
It is important to invest in yourself to grow and stay up to speed on current trends and regulations. Professional development is like giving your brain a workout!
When you commit to professional development with AORE you will receive a framework to grow your programs, interact with public land managers, influence decisions that affect the human-powered outdoor recreation industry, and more.
When you invest in your professional development journey, this means you are registering and showing up for events. You are engaging and asking questions. Many of our sessions are casual and a great place to network and meet fellow education leaders and facilitators.

We encourage you to register and set aside time each month to your professional development and engage with these opportunities.

AORE aims to provide professional development in a cost-effective manner. As an AORE member, you will benefit from the most cost effective access to programming. While we can't offer everything for free, so do work to offer a variety of opportunities in different cost brackets.
We offer professional development and learning opportunities in three ways:
Annual Conference
Live sessions:

Professional Development Webinars
Networking
Inclusive Summit

On Demand Content, including:

Pre-Recorded Sessions
Self-Paced Courses
Equity Challenge
Podcast [Coming Soon!]
Jenny in the Outdoors [Coming Soon!]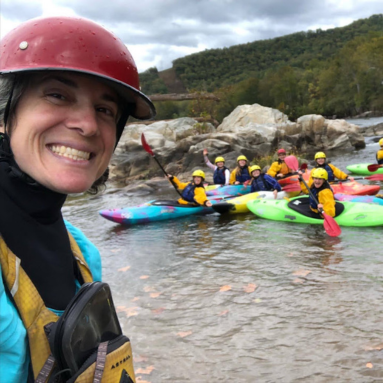 I volunteer with AORE because it's a great way to network within the Outdoor Adventure community. It's also a great way to gain experience in different roles within the industry than I generally play and to give back to the community.
Candace Brendler
Coordinator for Outdoor Action at Princeton University
Be a Speaker
We would love to have you join as a speaker. Tell us about your expertise and what type of event you'd like to host. We'll be in touch if you are fit!
---
Share an Idea
Interested in learning about a certain topic or from a particular speaker? Tell us about it! Submit your ideas and we will reach out if we have any question.