AORE Announces Partnership With Desert Mountain Medicine

WHY DID AORE SEEK A PARTNERSHIP WITH DESERT MOUNTAIN MEDICINE?
In 2020, AORE made the decision to seek out Professional Development Providers - these are organizations that would like to help support the AORE and its mission in a greater capacity by offering educational content and consulting. Ideally, AORE Professional Development Providers participate in sharing initiatives, education, trainings and information with the purpose of advancing the field of outdoor recreation and education, and providing our membership with the tools to do so. Professional Development Providers are invested in the sustainability of the AORE and maintain similar values/goals/missions, in line with AORE.

In relation to Wilderness Medicine, Desert Mountain Medicine was a great choice to partner with.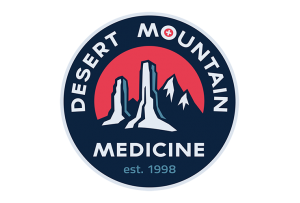 WHO IS DESERT MOUNTAIN MEDICINE?
Desert Mountain Medicine (DMM) was founded in 1998 under the premise that wilderness medicine education should not be limited to an indoor classroom. Over the last two decades DMM has focused on designing and delivering innovative wilderness medicine education through a balance of online, in-person, and field-based training.

As the outdoor education industry shifts and evolves, so do we. In 2013 DMM felt compelled to design a comprehensive hybrid wilderness first responder curriculum. This unique course format offers a shorter, in-person, practical section without compromising the valuable and irreplaceable hand's-on, scenario-based contact time needed for students to achieve a prescribed level of mastery.

Today, DMM's hybrid wilderness first responder (WFR) course format consists of a 30 hour self-paced, online instructional component, followed by a 50-hour in-person, practical component which takes place over five consecutive days.

As of June 1st, 2020 we went back to our roots to teach the in-person sections of our courses 100% outside and have successfully taught over one hundred course since thus far. The combination of teaching outdoors while adhering to our COVID-19 safety guidelines, allows for our students and staff to experience the same quality of hands-on, scenario-based learning and instruction as when we teach in traditional course settings.

We are excited to continue this path forward and wish to extend our expertise and current course offerings to AORE's membership. We would also like to extend our services to organizations who would like to sponsor wilderness medicine training, in-person at their location.

HOW DO AORE MEMBERS BENEFIT FROM THIS PARTNERSHIP?
Desert Mountain Medicine will provide Professional and Aspiring/Student Professional AORE members a discount on WFR and WFR Refresher Courses. (You can find more information on how to access this discount in the Member's Area).

Additionally, DMM will give priority to those organizations that have an urgent need to fulfill course backlogged due to the pandemic starting June 1st.

HOW DO I CONTACT DESERT MOUNTAIN MEDICINE?
Nadia Kimmel, Executive Director, MS, RN, WEMT (She/Her/Hers)
Email: nadia@desertmountainmedicine.com
Facebook: @desertmountainmedicine
Instagram: @desertmountainmedicine

ABOUT NADIA
Born and raised in Montreal, Canada, Nadia was drawn to the Rockies of Colorado as a young adult. She began leading students on month long backpacking trips around the West for various outdoor education companies. Much to her surprise the only medical training that was required of her was basic first aid and CPR certifications.

After completing her first Wilderness First Responder (WFR) course in 1992 she recognized the broader need for a more robust, field-based, wilderness medicine curricula designed specifically for outdoor professionals. Nadia pursued this newfound passion with her usual infectious intensity, and began teaching WFR courses soon thereafter. Her fascination with medicine lead to her receiving an EMT certification in 1994 and subsequently volunteering on SAR and working in various emergency departments around Colorado.

Before founding Desert Mountain Medicine (DMM), Nadia worked for the Wilderness Education Association as an outdoor educator. She also attended Colorado State University and earned a B.S. in Natural Resource Management. Later she was asked to join Colorado Mountain College to help jump start their Outdoor Recreation Leadership program (ORL) in Leadville, CO after which she earned an M.S. in Forestry with an emphasis in Outdoor Recreation from Northern Arizona University. Her combined education and experience as a guide, outdoor educator, medical professional, and wilderness medicine instructor provided her with a solid foundation of knowledge, skills, and perspective to develop and run DMM under her own unique vision in 1998.

After founding DMM Nadia became the EMS coordinator and EMT instructor for Colorado Mountain College, which inspired her to pursue a bachelor of science in nursing (BSN) from Regis University. Nadia continued to work as an ER nurse while cultivating DMM and its community from a fledgling, one-woman operation to the expanding business that it is today.

Over two decade later, Nadia continues to contribute to the field of wilderness medicine as part of the Wilderness Medicine Education Collaborative (WEMC) and as DMM's Executive Director, focusing on curriculum development.