Get the Most Out of the Outdoor Professional Conference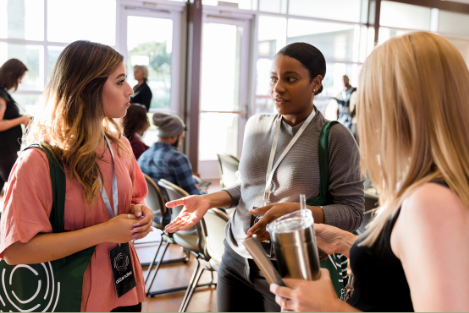 Get the Most Out of the Outdoor Professional Conference

If you aren't sure why you should attend the Outdoor Professional Conference (OPC), we would love to tell you a few ways you can get the most of your experience.

This year our conference is growing! As an association, we are here to serve our members. We have watched our membership grow and change over the years, and we have continuously worked to align our offerings to meet the needs of the membership. In support of this idea, this year our conference attendees are getting an expanded network when they join us in Baltimore, Maryland.

This year we are co-locating with Athletic Business (and as an added bonus - their other partners)! As an attendee you'll have access to the same great networking opportunities and education you know and love — but also get to expand opportunities with leadership and management. This will give you the opportunity to learn how to grow yourself - and the business of getting outside! Let's face it - talking about ourselves, to ourselves is not going to advance our work!


Why You Should Attend a Conference
Professional conferences are an investment in your career as well as your professional growth. Conferences are an opportunity to network, gain knowledge, and stay updated on industry trends. Whether you're a seasoned professional or just starting your career, here are five valuable things you'll get out of attending a professional conference:


1. Research and Education Sessions
Let's start with the obvious. Most know and love conferences for their educational opportunities. You'll gain so much knowledge from our wide range of industry experts. We are also bringing back our Research Symposium along with some additional research focused sessions. Our sessions will feature presentations and panels discussing the latest trends, technologies, and best practices within outdoor recreation and education. Attending these sessions can broaden your understanding of industry developments and provide valuable insights into new strategies, tools, and methodologies that you can implement in your work.


2. Networking
Arguably the most valuable element of a professional conference is the opportunity to network and connect with other industry professionals. How often are you in the same room with 100+ outdoor recreation and education professionals? Now is the time to break out those business cards (or digital ones!) to share.

At OPC you'll not only have access to AORE members, but also the others within the Baltimore Conference center including Athletic Business, Medical Fitness Association (MFA), National Alliance for Youth Sports (NAYS), and National Intramural and Recreational Sports Association (NIRSA). Conferences bring together professionals from diverse backgrounds and experiences. With these new connections you can gather new ideas and implement them within your organization. Additionally, discussing your work with fellow attendees can provide constructive feedback and new perspectives, enhancing your projects and ideas.

You may also make a connection with a future employer or employee. Engaging in conversations, attending social events, and participating in organized networking sessions can expand your professional network and open doors for collaboration and opportunities.

Throughout the week you'll have plenty of opportunities to network and mingle with other professionals. We encourage you to also participate in our 'Grab a Pal for Dinner' on Wednesday evening. We will set up a station within the conference center to connect you with other attendees and head out for meals in the local area. This gives you more opportunity than a quick conversation between education sessions!


3. Personal Growth
Of course attending a professional conference is great for your career, but it can also bring personal growth. Interacting with industry leaders, successful professionals, and experts can be immensely inspiring and motivating. Learning from the experiences and challenges of others can empower you to set new goals, overcome obstacles, and chart a path for your own growth and success. You never know what you'll learn or who you'll connect with — it could change your life!

One aspect of growing, personally and professionally is being in charge of your trajectory. The outdoor industry continues to evolve and we recognize that for some, investing in themselves (paying for a conference or professional development) may not be what they have enjoyed in the past. This, however, appears to be what the current reality is for professionals in the outdoor industry. As a result we are offering a value-packed experience that will be amplified by your presence and engagement. You will get the most out of OPC by being proactive in engaging, participating, and taking initiative to be curious and courageous. Having conversations with attendees who work in different positions and with various levels of experience to broaden your horizons. You get to advance yourself!


4. Innovation and Trends
We mentioned education sessions can help you stay on track with industry trends, but so can the expo floor! And this one will be the biggest expo we've ever been a part of — with all partners on one floor!
Expos often showcase the latest innovations, technologies, products, and services relevant to the industry. Attending the expo will provide you with a firsthand look at cutting-edge developments, emerging trends, and advancements in outdoor recreation and athletics. This exposure can broaden your understanding of what's possible, spark creative ideas, and help you stay ahead of the curve. It's an excellent opportunity to gain insights that can positively impact your work or business strategies. We are so excited to bring you exhibitors ready to connect with you to help you equip your programs and build new facilities. Since we will be sharing the expo floor with the other partners, this truly will be a one-stop shop for all your needs!

Of course, we want you to stop by our booth! Visit booth # 543 to check in with the AORE team, ask questions, shop the NOBA book sale, preview our auction items (the Live Auction will be held Friday in the AORE booth at 3 PM). Additionally, when talking to an AORE team member, be sure to drop the word "pelican" into conversation and you'll receive a free AORE branded gift!


5. Celebrating the Future
We are excited to gather together and celebrate 30 years of AORE! We are excited to honor and celebrate our past, present, and future members. We wouldn't be where we are without YOU, so come join in the celebration at the kick off event on Tuesday, October 31. We will also be announcing the winners of Step Out for 30!

We can't wait to see you in Baltimore this October / November! The small but mighty AORE team has worked hard to make this the best conference yet! This conference is for you, so be sure to register and get the most out of your week with AORE!