AORE Announces Speaker Lineup for 2023 Outdoor Professionals Conference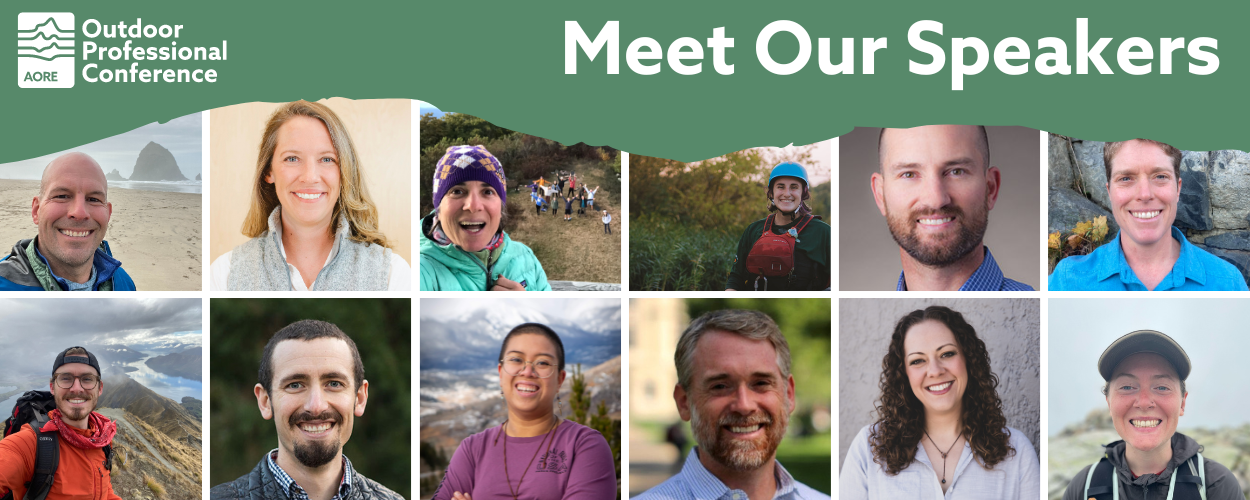 The Association of Outdoor Recreation and Education (AORE) announces industry experts slotted to speak at their annual Outdoor Professional Conference (OPC). This conference will feature new and returning speakers covering topics from leadership to diversity, equity, and inclusion.

OPC will include pre-conference workshops, an industry keynote speaker, a celebration of AORE's 30th year, research symposium, education sessions, and an expo hall.

Over 40 education sessions will be offered, selected by a volunteer OPC education team. These volunteers reviewed proposals, submitted by potential speakers, grading based on relevance, creativity, impacts to the industry, interest of attendees, and more.

Attendees will find inspiration around every corner, discover new and innovative ways to run and/or teach outdoor recreation programs and will return to work energized.

This year's conference speakers range in expertise including higher education outdoor recreation programs, academia, non-profits, certification providers and private sector adventure programs.
Here is a highlight of current education speakers and the topics they will cover:
Mike Ellsworth, Director of Outdoor Recreation at Liberty University, will discuss lessons learned from directing over 72 events in his career.
AJ Heil, Director of University Recreation at George Fox University and a seasoned outdoor program director, will share ideas on how to boost participation in outdoor programs through scholarships.
Abby Rowe, President of Wilderness Medical Associates International and founding member of Wilderness Medicine Education Collective (WMEC) will present WMEC's updated Scope of Practice documents. Rowe will also share a presentation to help you keep your staff's wilderness medicine training sharp.
Raeanna Anglen, Director of DEI & Risk Management Trainer at Xcursion Risk Services, will present 'Building a Culture of Inclusive Risk Management Begins Within' covering the role that emotional intelligence plays in cultivating inclusive environments and forming effective risk management practices.
Other speakers include:
Coy Belknap, Director at West Virginia University - Adventure WV
Sam Bragg, Field and Logistics Director at CorpsTHAT
Candace Brendler, Coordinator for Outdoor Action at Princeton University
Matthew Broda, Associate Professor of Education at The College of Wooster
Matthew Busch, Assistant Director Outdoor Adventure/PhD Student at University of Virginia/Clemson University
Trevor Dunlap, Executive Director at Nuhop Center for Experiential Learning
Josh Elder, Outdoor Pursuits Coordinator at University of Tennessee, Knoxville
Kellie Gerbers, Associate Professor at Westminster College
Scott Gray, Challenge Course Manager at Genesee Valley Outdoor Learning Center
Todd Grier, Program Director, Outdoor Adventures at Texas A&M University
Sasha Griffith, Adventure Program at James Madison University
Morgan Haas, Associate Director at West Virginia University - Adventure WV
Jon Heshka, Associate Professor & Chair at Thompson Rivers University - Adventure Studies Department
Will Hobbs, Associate Professor at Brevard College
Jeremy Jostad, Assistant Professor at Eastern Washington University
Steven Koster, Adventure Programs Coordinator at University of South Florida
Bruce Martin, Professor at Ohio University
Carmela Montenegro, DEI Consultant at Not Mad Just Misunderstood
Will Reilly, Founder and Head of Growth at Pursuit & The Hooper Collective
Jacob Rex, Program Coordinator at Adventure WV - WVU
David Secunda, CEO at Avid4 Adventure
Trey Smith, Coordinator of Adventure and Camp Specialist at James Madison University
Christina Spohn, Rental Center & Climbing Wall Coordinator at Virginia Commonwealth University
Jeannette Stawski, Executive Director at the Association of Outdoor Recreation and Education
Jeff Turner, Associate Professor at Georgia College & State University
David Wheatley, Principal & Chief Question Asker at Humanergy
AORE's OPC kicks off on October 31, and then will be co-locating with Athletic Business' AB Show in Baltimore, Maryland November 1st. November 2 and 3, OPC attendees can choose from OPC and AB education sessions. The OPC will be joining AB's 40 year conference with over 2,300 facility and program managers from around the world. These decision-makers come to AB Show every year to learn new solutions from industry leaders, find new products and services and build community. This opportunity helps put AORE on the map, while keeping costs low for attendees.

Registration is now open, with options for individual and group registration. AORE encourages group attendance for teams - to promote program growth and development. For those unable to attend the entire conference, daily rates are available.

Registration will go up August 15 — this will be the lowest ticket price for OPC.

If you are interested in exhibiting and getting your organization in front of over 3,000 attendees, please email AORE at nationaloffice@aore.org. Booths start at $2,950. Discounts are available for nonprofit organizations.
A full schedule will be announced soon. To stay up-to-date on OPC news and learn more, please visit aore.org/OPC.

If you are looking for additional ways to get involved, grow your network, and boost your resume, AORE is always looking for volunteers for the event. Please fill out this form to sign up to be a volunteer.