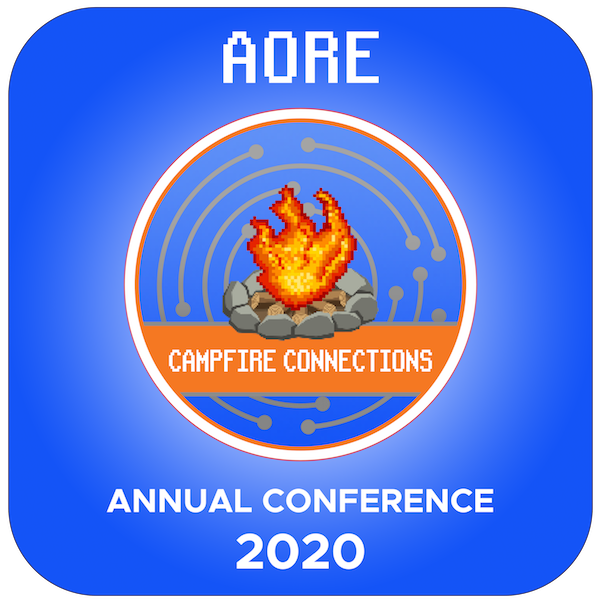 ABOUT THE CONFERENCE
---
This year, as a virtual conference, we have flexibility and options that simply aren't possible at an in-person event. We are curating our schedule piece by piece, presenter by presenter. We are focusing on a few different session types throughout the week, each explained throughout this page. There are definitely unique experiences to a virtual conference and we hope you'll take the time to review our information so that you get the best possible experience in 2020!
The goals of the AORE 2020 Conference include broadening collaboration within the many fields of outdoor education and recreation, creating higher-quality educational opportunities, building professional skills and knowledge, strengthening professionalism with the membership, broadening networking opportunities, leveraging the community in advocacy and public policy efforts, and raising awareness of the value and impact of outdoor education and recreation.
Those attending the conference include instructors, program administrators, military personnel and other individuals in the outdoor and recreation industry. Our conference provides opportunities for established and aspiring professionals, students, and all outdoor enthusiasts. For several days in October, we will come together in a virtual environment to share ideas, learn new techniques and re-energize the industry. AORE's Conference is a gathering of friends and colleagues, a place to improve performance and meet new people from many areas of the outdoors.
About a VIRTUAL Conference
Virtual conferences are definitely a different experience. When you go away and attend an in-person event, it's a commitment and it's all in; you are there with little distraction.

Virtual events are flexible enough that we can accommodate our schedule in a way to either have people commit for three full days or spread ourselves out a bit more to allow for people to have some flex to their schedule.

We know our members are torn between their daily work and their time at the conference, so we built the schedule in a way to provide enough space that people can opt to engage in additional conference activities or return to work, family or other needs.

As sessions are recorded, they are available to attendees to go back to at their convenience.

Conference Programming
Each year, the conference changes bit by bit to meet the needs of our members and the industry as a whole. We provide a handful of standard programming options and sessions in addition to unique opportunities with each conference. Our selection of keynote speakers and education session topics comes from the most qualified, relevant, and timely presentations submitted as well as curated content from industry leaders. Below is a glimpse of some of the types of programming you can expect to experience during the 2020 conference.
Concurrent Sessions / General Conference Education Sessions
Between general education breakout sessions, shorter "snap" education sessions and longer deep dive sessions, we are excited to be able to offer an extensive selection of valuable content and experiences for attendees. Given the virtual setting for 2020, AORE is working with presenters to provide session content that can be delivered effectively and allow for engagement with attendees.
Exhibitor Hall
With endless hours to explore our Exhibitor Hall, attendees will have time to meet and interact with every vendor. Our exhibit hall is consistently packed with equipment outfitters, training companies, guiding companies and more--all there to network with attendees. Having five days to fill, vendors will offer live chat opportunities, one-on-one meeting times, scheduled demonstrations and presentations and non-stop access. This gives our attendees the opportunity to ask questions, compare price points and use that information to negotiate and leverage opportunities during face-to-face meetings.
Keynote Sessions
Whether it's inspiration to do more, a spark to re-imagine, or a challenge to disrupt the norm, find what you're looking for in our keynote sessions.
Joining our conference for a keynote address as well as two additional follow-up sessions, Mikah Meyer will bring his story of adventure to attendees. He is certain to inspire us to live "beyond convention"! Read more...
CareerHQ
In our CareerHQ, attendees can browse graduate assistantship, internship, full-time position and summer position announcements from organizations and programs across the country. Attendees are invited to digitally submit their resumes for potential employers to review. Time slots are available for one-on-one mock interviews and resume review sessions with our Career Advancement volunteers.
Collaborate Sessions
Sometimes a more informal discussion session with like-minded colleagues or those experiencing similar challenges, become the most memorable parts of a conference. We are proud to offer more collaborate sessions than ever possible, including opportunities for repeat sessions, given the virtual environment in 2020. These facilitated, focused discussion sessions are often a gateway to invaluable, personal industry connections.
Research Sessions + Poster Presentations
AORE's Research Symposium strives to connect academics and practitioners of the outdoor and recreation field. The symposium provides an international forum for scholarly exchange and discussion about outdoor recreation and education research, theoretical and applied and creates an amazing opportunity to bridge research and practice.
Our poster presentations are a great opportunity for additional teams to share their work in a less-structured environment. Posters will be displayed in a designated virtual space that is open for exploration across two days of the conference. We will provide a short time where poster owners can do an informal, live presentation to those interested in their research.
---
MEETINGS, NETWORKING EVENTS, SOCIALS AND MORE!
Welcome + Orientation
This is all new, this virtual conference! We want your week to be powerful, seamless and enjoyable. Learn how to navigate through the virtual system and prepare for the week ahead. Meet other attendees and get a sneak peek into what's coming in the following days
Town Halls, Committee Meetings and Annual Business Meeting
AORE's leadership will spend time bringing members together for discussions and questions during Town Halls. Committee meetings at the front of the conference will help interested members learn more and will be followed by more collaborative work and planning sessions towards the end of the conference week. In addition to these opportunities, AORE's Board of Directors will carry out its Annual Business Meeting for official association business.
Networking Sessions
Going virtual will certainly change the networking opportunities conferences are so good at creating by default. Conversations in passing, while waiting, in session rooms and in hallways. Networking is feasible, fun and even a bit forceful when going virtual. We have a variety of options to choose from throughout the week to get your networking points, so lean in!
Coffee Chats
Most mornings during the week of the conference, grab your coffee, smoothie, tea or water and join association leaders and industry icons in casual chatter. You can even come in your pajamas!
Self-Care
We are offering a couple mornings of much needed self-care for attendees. Whether it's yoga, meditation, deep breathing, reflection or other wellness experience, we hope you'll spend some quiet time with us and with yourself before we kick off our conference days.
Social Hours
As we turn down for the evening, come join simply for the fun of the people. Bring your favorite wind-down beverage, sit back, chat and play some fun games with us.
Auction*
We are working towards the most user-friendly options for this year's silent and live auctions! Stay tuned to learn about the amazing items you could win; all monies support future conference scholarship programs.
Closing Session
The week closes with appreciation, connections and reflections. One last time from around the world, come together to celebrate the outdoor industry, your peers and yourself.
---
*Donors who purchase items at a charity auction may claim a charitable contribution deduction for the excess of the purchase price paid for an item over its fair market value. The donor must be able to show, however, that he or she knew that the value of the item was less than the amount paid.
Pre + Post Conference Workshops
In addition to everything that happens during the conference, we partner up with providers to offer a variety of pre and post conference workshops. These sessions typically take up anywhere from one to seven days and might offer skill-based training, certification programming, adventure opportunities or more. To explore our offerings, please visit our PRE + POST CONFERENCE WORKSHOPS page.